By Gangadhar Kulkarni 293 weeks ago 739 Views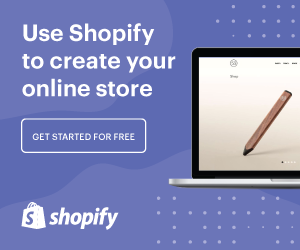 Why is Shopify Best E-Commerce Platform to Start Your Own Online Store?
The best E-Commerce Platform that helps you to Sell Online, on Facebook, or in person. Customize the Ecommerce Software as per your business needs with ease. Try for Free!
Shopify is ideal for you if you want to launch an online shop, or if you already have a physical store, but want to continue to grow your business by selling your products online.
Pros to Use Shopify
Over 100 Beautiful, Professional Looking, Mobile Ready Storefront Themes
Shopify offers you over 100 beautiful and professional templates (themes), so your online shop can look great. If you have an online shop, your shop has to look good. Why? It builds credibility and trust right off the bat. It's the same idea as a brick-and-mortar store – it has to look clean and professional to encourage visitors to stay and have a look around.
Comprehensive, Flexible Ecommerce Builder with a Large App Store to Extend the Functionality of Your Online Store
Shopify is very flexible and has all sorts of tools (Apps) to meet your needs and to extend the functionality of your online store. They offer you a large App Store where you can choose from over 1,200 different Apps (free and paid) for you to plug into your store. The tools include accounting, customer service, inventory management, marketing, reporting, shipping, social media, fulfillment, etc. and these apps can help automate a lot of your business processes.
Shopify Offers You a True 24/7 Anytime Support
You can reach them at any time through phone support, online live chat or email. They even provide you with 5 international phone numbers so you can choose the number that fits your region. If you're running a business, you need immediate access to support when you need technology troubleshooting – Shopify provides this for you.
Cons to Use Shopify
-Shopify charges a transaction fee for every sale (unless you use Shopify Payment)
-Monthly cost may add up if you integrate multiple Apps
-You need to know "Liquid" if you want to customize your theme extensively
If you know code (HTML and CSS) and want to customize your website (or hire a programmer), it's not as straightforward as in addition to editing through HTML and CSS (the basic codes), Shopify also uses their own coding language called "Liquid".
Conclusion
Keep in mind that to have success with your online shop, you need a very strong, capable and flexible online platform/infrastructure to support you. Shopify is one of those platforms that you should consider investing in, especially with their 24/7 phone and live chat support.
Shopify offers you a risk-free 14 days trial to see for yourself if they fit your needs. So there is no financial risk to you to try them out.