By Gangadhar Kulkarni 290 weeks ago 816 Views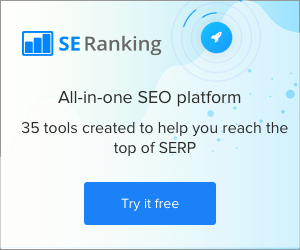 All-in-one SEO Platform for Business, Agencies and SEO Specialist
When all you need is to track rankings in search engines, SE Ranking might be the choice for you. Other tools like SEMrush and Serpstat also offer this functionality amongst their functions, but the monthly costs add up, while SE Ranking is relatively cheap, and is specialized in exactly this subject.
You can monitor ranks for many websites on a daily basis, for multiple search engines. Especially for relatively new sites, monitoring how well you do in search engines is very important. SE Ranking is a relatively new player in the field of SEO tools, but they seem to do a nice job.
Why Choose SE Ranking?
SE Ranking offers one of the complete toolsets in the industry that can help you run a successful SEO campaign. A small sampling of the features on offer include an advanced website auditing feature, backlinks monitoring, White Labeling, a detailed analysis of competitors using a variety of parameters, employee and client accounts, manual and automated reports, and many more. More than the features on offer, they also provide flexible plans that are perfect just about any kind of user, from SEO newcomers to agencies and beyond. Looking for a robust service that can adapt to your needs and budget? This is it!
Features of SE Ranking
-Backlink Monitoring Tool
-Keyword Suggestion Tool
-Website Audit
-Marketing Plan
-SEO Reporting Tools
-White Label Software
Pricing Structure
Free 2-weeks trial accounts are available, and paid plans start at $7,- a month for the basic plan (5 campaigns, 50 keywords), which is pretty cheap. If you need more campaigns or keywords, prices go up of course. You can even buy a self-hosted version for a one-time fixed amount.
You can sign up for the SE Ranking sign-up page.
Pros
1. Simple, User-Friendly Interface: -
For those new to the game, mastering the ins and outs of SEO can be quite a daunting task, which can sometimes be the fault of an unintuitive tool or platform. And even if you are already an experienced SEO veteran, a poorly thought out user interface can sometimes turn an easy task into a tiring chore. Thanks to SE Ranking's simple yet ridiculously user-friendly interface, however, performing SEO tasks is an absolute breeze. Everything is clearly labeled and neatly organized, and with the presence of advice and tooltips, newcomers and veterans alike will always have a helping hand to guide them every step of the way.
2. Guaranteed Accurate Results: -
One of the best things about SE Ranking's SEO platform is the fact that you can expect accurate results each and every time. This is thanks to a number of cogs working together to keep this well-oiled machine running flawlessly, such as Google Analytics and Google Webmaster Tools integration, traffic forecasts, search visibility, and traffic options, among others.
3. Easily Check Rankings for Different Search Engines: -
Another aspect of their service that anyone can definitely appreciate is the fact that you can easily check the real-time position of your website on the three major search engines, Google, Yahoo!, and Bing. More than that, SE Ranking also allows you to see your keyword's positions in any region of the world, so you can quickly see which markets you are doing well and which you need to do better in.
4. Customizable Reports: -
SE Rankings offers a fully automated daily update of your website's ranking performance via comprehensive and customizable reports. You can, for instance, export reports in a variety of formats such as PDF, XLS, and CSV. If you are an agency, the company's White Label feature allows you put your own branding in the report's header for a more professional look.
5. Flexible Pricing Plans: -
In addition to all of the amazing offerings of this company, SE Ranking also provides an incredibly flexible pricing plan that should delight just about anyone. While they do have a number of plans to choose from, the pricing for each plan changes the more keywords you need. Allowing you to customize each plan is great because not only will it help you stay well within your budget, it also means that you only need to pay for what you need and nothing more.
Cons
-SE Ranking is a truly user-friendly, convenient and incredibly robust SEO tool and, as of this writing, there are no perceivable negatives about their service whatsoever. If you are looking for a complete SEO experience, this just might be it!
If you are still wondering whether SE Ranking is a good fit for you or your company, take note that they also offer a free trial. So, what are you waiting for? Come and check them out now!