By Gangadhar Kulkarni 300 weeks ago 796 Views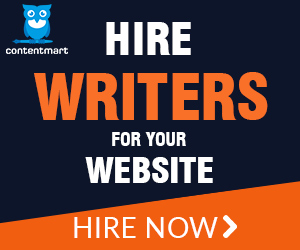 Contentmart: Best Place to Hire Quality Writers
Contentmart is a digital marketplace to hire an expert and talented content writers and avail quality content writing services. Get optimized content to drive more traffic.
Contentmart is an online content marketplace specially designed for freelance writers looking for work and for the clients who are looking to have some content work done for their websites, social media channels, promotions and more from highly skilled and verified writers. In business since 2015, the organization claims to be the 1st Indian content outsourcing marketplace with 5000+ successfully completed orders, 15000+ writers, and 18000+ existing happy clients.
Contentmart offers you the following services:
-Get in touch with thousands of competent copywriters
-No fees charged by Contentmart. Pay your authors directly
-Entirely registered & approved portal
-Go through writer's reviews, portfolios, and past work experience
-100% money back guarantee if the content doesn't match your needs
-Automatic disbursements
-In-built verification for unique content
-Rigid targets
-Supportive team
Pros
-You can get high-quality content at an affordable price.
-You can hire writers from various languages ranging from English to Hindi to Spanish. So if you want to start and grow a blog in your local language, this is the best platform to find suitable writers.
-You can outsource your blog content to the best writers (so you can save more time).
-Google rewards top-notch content over thin content (best ROI for you).
-100% safe and secure (full refund if you don't like the content).
-Fixed deadlines (so no headache).
-Automated payments.
-You will get access to hundreds of verified writers once you register for free.
-You will also get access to their support team (so you can ask questions before placing an order).
Cons
- Must have Native English Writers
Conclusion
Content marketing is a field which will never lose its charm. It is and it will be the key to success for every website created online. It is the main source to drive more traffic and generate more profit. If your website lacks good content, the Contentmart is the best platform to fulfill that need.
The services offered by Contentmart are wide-ranging and will be suitable for all organizations that are looking for good writers. It is a great platform where both writers, as well as clients, can get their work done in the most convenient way.
So, why not try Contentmart to get your content writing work done.