By Gangadhar Kulkarni 314 weeks ago 782 Views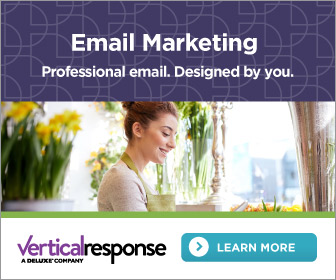 VerticalResponse: Best Email Marketing Software for Your Business
VerticalResponse includes some advanced editing tools you can't find in other email marketing services, and it offers important integration options for your contact lists. However, the list management options aren't as flexible as those of the best email marketing solutions.
We sent to test email blasts from VerticalResponse to several email clients, including Gmail, Yahoo, and Outlook. We had more issues with email delivery using VerticalResponse than we did with any other service we tested. Our emails never arrived in our Gmail inboxes – not even in the spam folders. More than 30 percent of the services we tested had some issues with Gmail, though.
It's easy enough to use VerticalResponse to create an email or newsletter campaign, whether you choose to send an HTML-coded email you've designed for another program or use a template and edit it within VerticalResponse. However, the email marketing software's interface doesn't immediately make sense. The dashboard doesn't show you past campaigns or a snapshot of your tracking reports. You can find task buttons on the sidebar of the application.
Email Creation
They allow you 25MB of image hosting space for your emails, as compared to our Industry Benchmark of 5-10MB. In addition, you can edit your custom images once you put them in the email. Vertical Response offers over 700 pre-designed responsive templates.
Contact Management
Users have the option of importing contacts for their campaign from Excel and Outlook as a CSV file, as well as Gmail, Yahoo, and Hotmail email accounts. You are not able to cut and paste contacts, though. Contact Management is easy for the most part, though they do not allow you to export a clean list (i.e. bounces and unsubscribes removed).
Email Deliverability
In our tests, 100% of the emails got through to the proper addresses (minus the ones that we designed to bounce). Before you send out your email, a real person checks it to ensure that you meet spam guidelines. They do not, however, offer an automatic spam checking tool that scans your email for popular spam words or subject lines. Your email will be sent immediately after it is proofed by someone when you select "send immediately." Proofing took between two and five minutes for our test.
Analyzing Reports
Reports display opens, forwards, a number of clicks, bounces, unsubscribes, and top performing links. In our test, we found that the reports accurately reflected user actions. Reports are displayed in graphs, and you can receive them in an email or export them in a spreadsheet.
Customer Support
Customer support was very knowledgeable and friendly. There was one instance where live chat was down for an hour, but besides that, customer support (phone, live chat, and email) was extremely responsive and detailed with their answers.
Pricing
Their pricing is both contact and email based, meaning you can pay by a number of contacts you have or by the number of emails you send per month.
Vertical Response Pros
-Offers flexible and easy-to-use templates and email editor (scored 5 out of 5 stars for Email Creation)
-Offers comprehensive reports analyzing subscriber actions (scored 5 out of 5 stars for Analyzing Reports)
-Offers 25MB of picture hosting (our Industry Benchmark is 5-10MB)
-Someone checks and approves your email before it is sent out to subscribers
-Allows you to create an A/B test campaign
-Offers Google Analytics integration
-Pricing by number of emails and by number of contacts is available
-Offers comprehensive reports analyzing subscriber actions (scored 5 out of 5 stars for Analyzing Reports)
Vertical Response Cons
- Segmented marketing is more difficult with this service than most.
Conclusion
They have excellent Customer Support and Email Creation tools. They also offer a large amount of picture hosting space for your emails. Vertical Response scored well on Email Deliverability because they have a real person checking your email before it is sent out, though they do not have an automatic tool that scans it for spam. They also offer the ability to create an A/B test campaign.