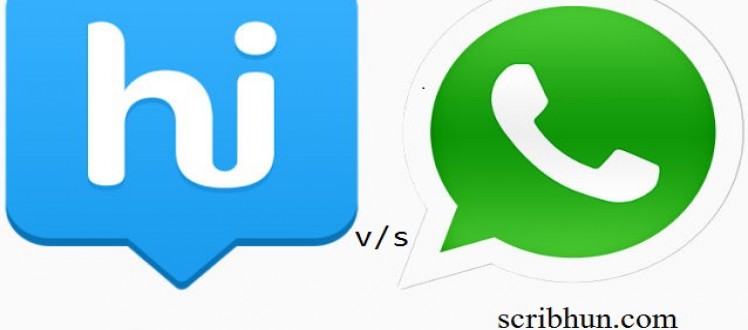 Whatsapp v/s Hike. Which is better ?
I personally prefer to use Hike over Whatsapp (or any other messenger app for that matter).

But still:
Advantages of Whatsapp over Hike:
Whatsapp has been around for a long time
Almost everyone with a smartphone uses Whatsapp. You are more likely to find your friends on Whatsapp than any other messenger app.
Its Add free (most messengers are including hike),
But that?s just one side to it, Here is a list of some really good reasons why Hike Messenger is better than Whatsapp
1. Allowable Media Size and Media Quality
Hike allows a maximum of 100MB of size per file against a mere 16MB on Whatsapp. However, it may be agreed that 16MB is more than enough for images and audio files, but the video files are easily greater than 16MB creating a problem for the users.
Also, Whatsapp has the option of trimming and compressing the videos which degrade the original quality. Also, quality of the transferred images is altered too. Whereas in hike, we can choose b/w whether to sent descaled image or true size image.
2. File Support
Whatsapp does not support document formats.
Hike supports document formats like .ppt, .docx, .pdf etc. One advantage that users have here is that they can transfer document files of upto 100MB while most email clients only provide with 25MB limit
3. Rewards
Hike made its user base of 20 million by luring users into downloading the app and rewarding them with talktime recharges. Hike pays Rs. 20 for each successful referral and Rs. 15 to the new user who signs up. The user can redeem the money as a talktime for his phone after the minimum earning of Rs. 50. If you are on postpaid plan then after the hike reward redemption, your next bill amount will get reduced by the amount you redeemed.(may now changed to another offer*)

4. Custom Chat Themes for Each Conversations
Whatsapp allows you to change the background wallpaper, but Hike offers even more. Hike lets you have customised themes for each conversation that is visible to both the end users.
5. Stickers and Emoticons
While Whatsapp started the emoticon revolution using the Emoji icons, it has remained the more or less the same for years now.
Though not an original idea, Hike supports many exciting stickers that just add the spice to the conversations These stickers are regularly updated every 2-3 months.
Regional Stickers are available. ie with specific languages.

special themes and stickers are available during festivals and seasons.


6.Free Messages to Non-Hike Users/ Offline texts
Even if your friends are not on Hike, you can send them free SMS messages using Hike. Each Hike user is given 100 free SMS each month. Hike also gives 50 bonus SMS for every successful invitation along with Rs.20. These SMS messages can be sent only in India.(offers changes now and then*)
7. (ad)/FREE Lifetime validity
Hike is an ad-free messenger which does not charge anything for its services ever.
Whatsapp is free for the first year, then its 0.99$ or Rs 55 a year
8. Better Privacy
Whatsapp fetches all contacts from the phonebook and matches them with the Whatsapp users and then automatically add all the contacts to the Whatsapp contact list.
Hike users have to send and accept friend requests to ensure privacy. Each Hike user can choose to show or hide his last seen to his friend.
Update: Now, Whatsapp also lets you hide ?last seen?. Still cannot possible to hide it just for specific people.
9.Hike is more secure to Eavesdropping
Whatsapp messages are saved on the SD card of the device. These chat logs are encrypted, but extracting conversations from them is easy. In fact, the internet is loaded with tutorials for the same.
Hike messenger has an option of 128 bit SSL encryption inside settings->privacy. This means chats are safe with Hike even on a public Wi-Fi. encryption of 128bit SSL is simple (or can be said impossible yet*).
10.'Natasha' of hike.
A feature (chat box) called Natasha is available. in which u can text to her anytime anywhere.
If you are bored, tell her, she will crack some jokes for you and
she is not like your other friends (
instantly replies :P
).
11.In the latest update
now many more features are found in hike, like; sports updates, current affairs, wiki search feature, get updates about now running films, imdb ratings etc and many more including mini photo editor.
Whatsapp vs Hike | The better one:
While Hike messenger has evolved into a serious and meaningful alternative to Whatsapp in India, there is no clear winner as Hike with all its advanced and exciting features. The only draw back is that it is not as

viral as Whatsapp which is not actually a draw up since day by day hike users is getting increased.



So which one do you prefer ; Hike or Whatsapp! Tell us in the comments section below

. we will be happy to know your selection. :)

Download
For downloading

Whatsapp

. Click here
For downloading

Hike

. Click here