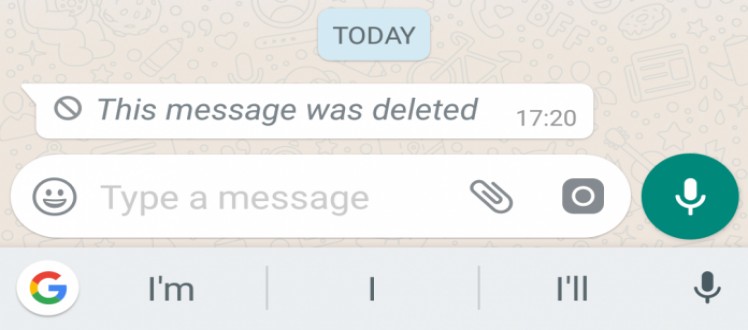 How to read deleted message? WhatsApp trick
This is a simple trick to read the deleted texts message which are deleted using WhatsApp's new "delete for everyone" feature on your android device.

This can simply be done using two methods; One method includes a 3rd party application and the other method is simply reading your notification log
How this trick works?
Your phone saves all the notifications you receives for a particular period of time.
While the sender deletes the message, the message will be deleted from your WhatsApps chat database but not from your devices' notification log, and therefore accessing the notification log, one can read the deleted message. However after few hours, the phone replaces the log and then it will be lost, or cleaning the unwanted files like cache etc using a application will also clear this log.
Method 1 :
Using 3rd party applications;
This is done by simply installing one of the below mentioned applications, these apps allow you access the log within these apps and from where you can read deleted messages.
1. Notification History (click here to download)
2. Notisave (click here to download)
Method 2:
This is done by long pressing in the homescreen, which takes you where you can edit your homescreen widgets.
Select add widgets and browse down to find a "settings shortcuts" widget. Add that widget to your screen, a new screen with a list of options pops up, from there click "notification log". The widget is successfully added
Now by clicking that widget you can access the deleted text message.
This method only works on default android launcher. If you are an oppo, redmi, coolpad etc user, which comes with a custom launcher, then you should first install 'Google Now' launcher from google play.
Click here to download Google Now launcher.