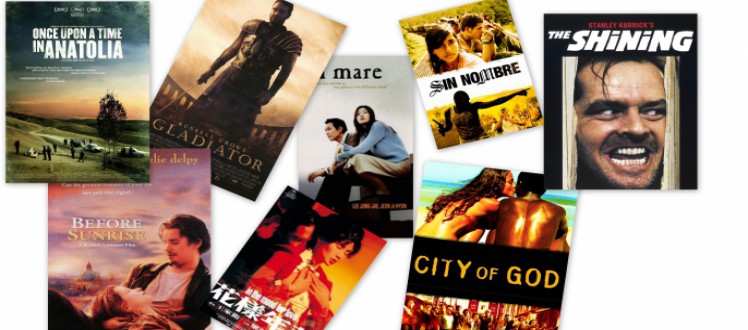 My favorite 10 movies
It is not easy to select 10 favorite films. I believe every human have different perspective for seeing films.These are according to the tastes in their minds. here i am not selecting top 10 films ,but i am listing certain films that inspired me the most in my perspective.
Once upon a time in Anatolia:

This is my personal choice in best moves of all time. Its just a happening in one day. What attracted me the most was the cinematography at night. The thread of the story is just about a crew wandering to find a dead body. By all means I would say this is a classical film.




Gladiator :

This might be the film that i have watched more than 20 times. I love heroism,and i believe in this film heroism is at its peak.

Sin Nombre :

I am fond of road movies,romantic and gangster films. When all the 3 came in one cup of tea i felt like it is made for me. The only reason why this is not famous is because its a Non-English film.

Before sunrise:

The first one in my most favorite trilogy,followed by before sunset and before midnight. All the films are released with a gap of 10 years. The script credit is given to the actors in the film, whose conversation leads the whole movie.

Memories of a murder :

Its the most thrilling investigating film in my thought.The climax of the film is the most appreciable thought.The Korean film keeps every viewers at the edge of their seats

In the mood for love :

In single sentence we can tell ,cinematography at its best mixed with mind blowing music .This is one of the ever best Asian film

The shining :

A movie with the best ever background score . I consider this as the biggest contribution from Stanley Kubrick. This comes under the category of Psychedelic thriller

City of God :

I am very fond of raw film making. So surly there will be a space for this film in my list.I was surprised by the fact that all the characters in the film were non professional.

Il Mare :

This is an Asian romantic film with a surprising climax. Only in climax we could connect every happenings in the film .

Mulholland drive :

I must say this is the most weird film that i have watched. The film values the interpretations of the views. The concept of role changing was the most attractive thing in the film.
I am too sad that i could'nt include certain films in the first 10 let me at least tell the names of such films that were removed with much pain
Children of heaven
Amelie
The grand Budapest Hotel
Interstellar
Run Forrest run
Wild Tales