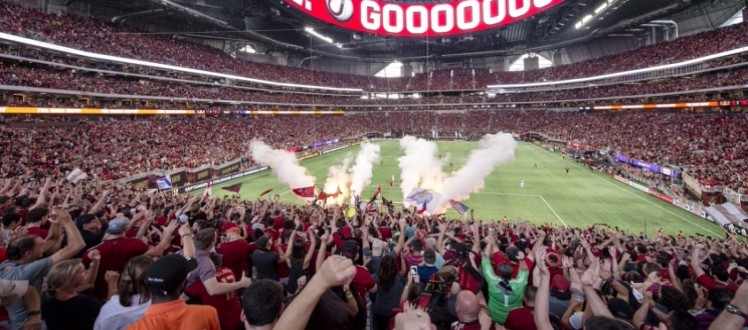 The Rise of Major League Soccer
When David Beckham traded Madrid for Los Angeles in 2007, LA Galaxy general manager at the time, Alexi Lalas, said that his arrival would bring worldwide exposure to American soccer and the quality that existed in the MLS would finally receive the attention it had been lacking.
Without doubt, Beckham's move changed the game. The American public, in general, didn't take to soccer and the MLS had never been considered as a viable option for any European players of Beckham's quality. But a decade on from his move and the MLS is now home to many talented footballers who once plied their trades at clubs like Barcelona, Juventus, Ac Milan and even Real Madrid. The average attendance in the league last season was even higher than that of the French league. We assess how Major League Soccer has rose step by step and the glorious prospects soccer fans in the states may be soon looking forward to...
Before David Beckham joined La Galaxy in 2007, the average MLS attendance was 15,390. To put that into perspective, the average Bundesliga attendance at the same time was over 38,000. Beckham's arrival saw the attendance rise to 16,767 in 2007, but most telling was the rise in attendances at La Galaxy games, home and away. The home attendance rose from 20,814 on average to 24,552 and the away attendance rose from 19,361 to 28,035.
This is even more impressive when considering the distances MLS fans would have to travel to watch their team play away from home. When the LA Galaxy made the journey east to take on the New York Red Bulls in August 2007-shortly after Beckham had arrived- a league-record crowd of 66,237 filled the Giants Stadium to watch an entertaining 5-4 victory for the home team. The record before this was 61,202, set 5 years earlier.
If this wasn't enough, eleven of the thirteen MLS teams at the time recorded their biggest 2008 attendances in games against Beckham's Galaxy and average viewing figures on ESPN increased by 23% whenever he featured. Adidas also profited as their Galaxy jersey became their worldwide bestseller in 2007.
Major League Soccer was without a doubt growing in popularity, however the numbers watching on American television were still extremely modest. In 2008, an average of 253,000 people watched live matches on ESPN which may sound terrific but was actually comparable to the viewing figures for women's basketball.
A 2011 study about the popularity of different sports in America found that only 16% of respondents said they were avid fans of Major League Soccer in comparison to 62% in favour of NFL and 49% in favour of Major League Baseball. In fact, Major League Soccer placed lower than Horse Racing, NASCAR, golf and even figure skating.

The question remained: Why was the world's most popular sport so unappealing to the American public?


It was growing, but not as fast as its fans would have hoped. To many, a lack of high profile players was the reason for the league's shortcomings and fortunately for them David Beckham's historic move had opened the door to other global superstars looking to get away from European football.
Thierry Henry joined New York Red Bulls from Barcelona in 2010 and a year later Premier League great Robbie Keane joined La Galaxy. The league was beginning to attract more top players. MLS was 18 teams strong at this time and the number of participants in high school soccer was 782,732, an increase of 22,825 from the previous year. Evidently soccer wasn't just becoming more fashionable to watch but also more fashionable to play.
For most American team sports, college sport is the best route to playing at a professional level, but as MLS continued to grow more and more academy products were making it into their teams' rosters. This seemed to signal a change in the effectiveness of college soccer and by 2011 all 18 MLS teams had their own academy to develop their own talent from a young age. For most European teams this was the norm, but this method of youth development was just short of revolutionary in the States. Its benefits in comparison to college soccer were obvious and at the start of the 2011 MLS season, there were 33 MLS academy products on the league's rosters.
In 2013, Clint Dempsey returned to Major League Soccer with the Seattle Sounders years after leaving to star in England where he became the highest scoring American-born player in premier league history. It was thought that his return showed how far MLS had come: the league had improved enough financially and competitively to win back top domestic footballers.
The World Cup of 2014 in Brazil was the first to come to the Americas since 1994 and World Cup fever hit the United States in a big way. The US Men's National Team brought more fans to Brazil than any other country and an ESPN poll at the time found that among Americans aged 12-17 soccer was now neck and neck with baseball in terms of popularity and well ahead of Ice Hockey.
The fans who travelled certainly weren't disappointed as their team got as far as the round of 16, collecting impressive results against Ghana and Cristiano Ronaldo's Portugal along the way. Most doubted that they would even be able to get out their group.
As MLS continued to grow, more expansion teams were added to the league and 2015 saw the long awaited introduction of New York City FC, the first MLS franchise based in the city and the second in the New York Metropolitan area, after New York Red Bulls based in New Jersey. The club announced David Villa as their first ever signing, a World Cup winner with Spain in 2010. It was another high profile recruitment to boost MLS and it was soon followed by the acquisition of both Chelsea legend Frank Lampard and Andrea Pirlo, another World Cup winner with Italy in 2006.
At the same time, another expansion club-Orlando City- signed former world player of the year Kaka whose presence helped Orlando to draw a league-record 62,510 fans for its debut. The two clubs finished the season 7th and 8th respectively, but had the 2nd and 3rd best average attendances in MLS, despite both being in their inaugural season.
2016 was described as a "milestone year" for Major League Soccer by MLS Chief Marketing Officer, Howard Handler. MLS matches were broadcast in 170 countries each week and more people watched MLS matches in 2016 across North America than any of the past 20 seasons. The league had grossed $25.7 million in viewership (an 8% increase from the year before) and its followers across its various social platforms had increased by almost 690% since 2013. The league also achieved an all-time high average attendance of 21,692 in 2016 more than that achieved by NBA and fewer than just the NFL and MLB.
More and more top players were joining the league as well with the likes of Steven Gerrard, Ashley Cole and Sebastian Giovinco crossing the pond. Merchandise sales were rapidly increasing with a whopping annual rise of 41% since the introduction of Orlando City and New York City. The league which 10 years ago had not one sponsor, now boasted over 20; including Adidas, Audi, AT&T, Coca-Cola and TAG Heuer. It indicated more big companies wanting to affiliate themselves with Major League Soccer.
2017 saw the MLS expanded with expansion clubs Minnesota United and Atlanta United added to the competition. With Atlanta came a fan culture that stood out from the rest of the league, due to the raw passion on show from their fans, home and away. 14 matches into the club's inaugural season saw them clear at the top of the league's average attendance charts with an impressive 47,239. Nearly 4,000 more than second-placed Seattle Sounders. Atlanta United boast the highest average home attendance in MLS history: 46,318 fans per game, more than any other MLS, NBA, NHL or MLB franchise. In less than a year they have become the league's most popular team and an embodiment of how far Major League Soccer has come. They played the first half of the MLS season at the 55,000-capacity Bobby Dodd Stadium but made the move to the purpose-built Mercedes Benz Stadium in early September. The 71,000-capacity stadium was sold out to see Atlanta United romp to a 3-0 opening day victory, giving supporters an idea of what was to come at their beautiful new home.
The most amazing thing about how the city of Atlanta took to Major League Soccer was that it had primarily been known as an American football city, with the popularity of the Atlanta Falcons prior to the MLS franchise's inception. Many doubted that the club would even fill their new home, but few could have predicted that they would break the MLS attendance record with a staggering 70,425 fans packing the Mercedes Benz Stadium for their game against Orlando City. Their instant success highlights a desire from the Atlantan people to be represented in the league and with several cities across the various US states yet to be represented in MLS, more stories like that of Atlanta United could be on the way.
When David Beckham traded Madrid for LA a decade ago, many thought that it would be the making of the Major League Soccer on the global frontier. The league may not have made the progress it was expected to make- in that it isn't on par with NFL and NBA in the States- but it has doubtlessly joined the party of the country's big sports. The number of Americans involved in high school soccer has increased by more than 15% since 2007 and the sport is considered one of the most popular among millennials.
But what next for MLS? The average attendance is increasing every season and more teams are soon to be added to the league, now 22 teams strong, which a decade ago only contained 13 clubs. LA are set to debut a second team next year managed by former Swansea head coach Bob Bradley and Miami are set to launch MLS' 24th team with the backing of the football legend that shaped the league in many ways: David Beckham. In addition to this, 12 cities are currently bidding for the right to start four new teams with likely locations including San Diego, St Louis and Detroit. As the love of football (or soccer) spreads across the US, the global game might just be growing finally on the one place that it had failed to make an impact.